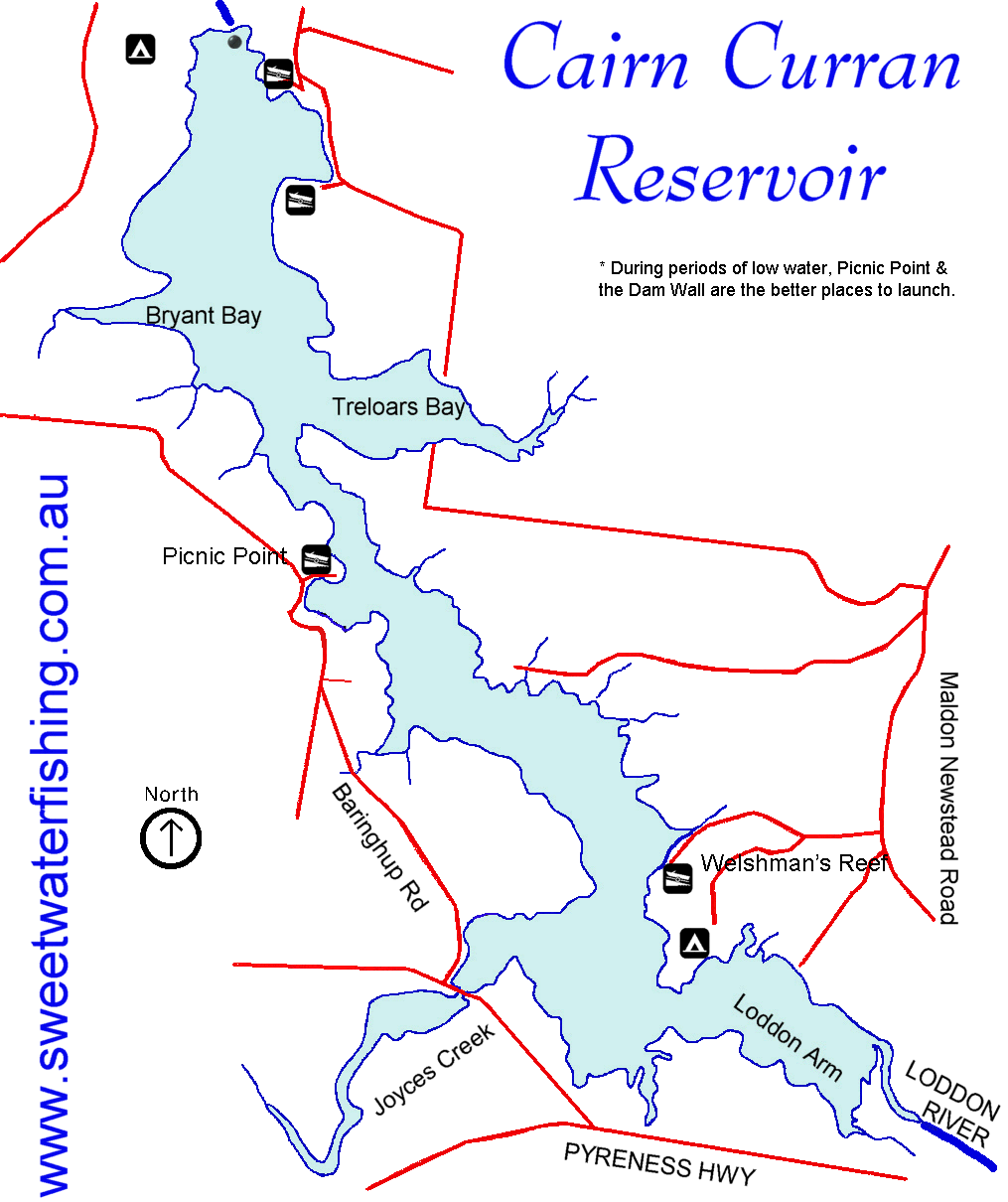 Baringhup is the place we camped out over the Easter break(refer to previous post for this). The Loddon River (usually) flows past the campsite and the water is used as irrigation by farmers whose properties are next to the river. There are various pumping sheds that work intermittently to pump the water up to their farms. The water released is controlled up stream at the Reservoir also, that is during times of flood. This prevents erosion of the banks of the Loddon River.
A short drive from our camping grounds takes you to the Cairn Curran Reservoir. It was constructed between 1947 through to 1956. A two megawatt Power Station at Cairn Curran generates electricity when irrigation and or flood releases are being made.
The above image was taken by myself. I am standing on a road that would normally be submerged in about 100 to 120 foot of water in the reservoir. The damn wall there with the hydro power station would usually be full with water. Indicative of the lack of rainfall Victoria has had these past few years.
This is the lowest we have ever seen the Reservoir. My husband has been camping up here for nearly 18 years. Slowly, we witness the water drying up. The ground is really cracked and the soil is crunchy to walk on where the bed of water used to be. You can see footage I took HERE (please turn your sound off though, as there is alot of sound of wind passing by the speaker on the camera).
We used to bring our boat here and fish for trout. We could see on the scanner the depth of water and also see shades from beneath. These were not fish, evidence now seen, they were stumps from trees. We also found a few boat anchors too!!
Here is an image (above and below) of the remnants of an old homestead. Again, this is usually submerged. It must have been a grand house in its day, the stone work is amazing. It would have at least 100 foot of water over it too. I just found an article from The Age Newspaper that gives tribute to the homestead pictured above. Please read it
HERE
, it is (sadly) a very interesting find.
This is an image I found of an old homestead that was submerged beneath Cairn Curran. The Lancaster Homestead. I wish I knew this before as we could have gone to find what is left of it now. Probably the chimney, they seem to survive everything those old chimneys.
Hopefully the drought will break sometime soon and the reservoir can fill up again. This would make life alot easier for the folks up there and also for the reservoirs down here in Melbourne. Local bush talk says that when Kangaroos start to produce Joeys( baby Kangaroos that is), that this is a sign that a drought era will soon break.....we can all only hope, and continue to conserve water best we know how.