Welcome to my history lesson number three....here I will let on about Melbourne's Shrine Of Rememberance. In April, April 25th to be exact, we will be remembering the fallen from wars past and present on our ANZAC Day. I will post more about this then.
(Gathering of people on Anzac Day at the dawn service on what marked the 90th anniversary of the ANZAC's landign at Gallipoli, also the 60th anniversary of the end of World War II in August 1945 and the fall of Saigon 30 years prior that spelled the end of the Vietnam War)
So, The Shrine of Rememberance is one of the most recognisable landmarks in Victoria. It is located on St Kilda Road in Melbourne, just South of the CBD. You can walk from the train station down to the shrine, as I did many a time on ANZAC Day as a little cadet...or take a tram ride to the shrine. Either way, it is a nice little trip. The tours of the Shrine are free and very informative, be sure to catch one when you venture this way.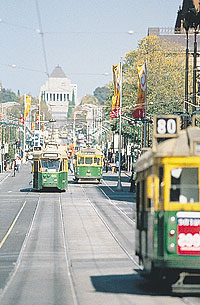 ( The Shrine up top of the image, and our trams running on StKilda Road )
( This statue, in the basement of the Shrine of Remembrance, represents fathers and sons who fought in WWI and WWII)
The Shrine was built between 1928 and 1934 with funds that were raised by the residents of Victoria. The forecourt area was not finished until 1955. This is the area that people who participate in the ANZAC Day Parade march up to and convene.
The design of the Shrine resulted from a world-wide architectural competition, won by Victorian returned soldiers, Philip Hudson and James Wardrop. Their entry was influenced by details from classical Greek monuments, with the cubic form stepped pyramid roof derived from the mausoleum of Halicarnassus, one of the seven ancient wonders of the world. Amazing isn't it?
This is an image of the inside of the Shrine, with beautiful friezes around the ceiling. One side of the pyramid roof has a small hole in it, which allows light to shine on the marble floor panel at 11am on November 11th. That image, I will share on Rememberance Day itself.
Gathering back on Nov 11th, 1934 at the Shrine of Rememberance.
So, whether you like to have a look at nice architecture, or if you are certainly interested in learning about our history, the Shrine of Rememberance is a must see. Right next door are the lovely Royal Botanical Gardens, and Domain Parklands and my favourite place of all
The National Gallery of Victoria.

Next Friday, I might introduce to you some fine history about a man and garbage can for a hat, so stay tuned for some surprises....and "'ave-a-goodweekend..orrrighty!!!"