So after the open range bus tour, Mia and I set off for a walking trail tour of Botswana. As you can see, there are huts to picnic in along the way, just as the ones pictured above.
Yes, another metal sign, this way to the Vervet Monkeys. We were in luck, there are two babies there, then 2 days old. The keeper was there at the time. He told Mia and I that there are 3 more babies on the way. Also, that when there are 3 or more babies in the lot, they form a creche so that the mum's can have a break. Not the keepers, the actual monkeys themselves.
At the time, they were all snacking on chestnuts and walnuts. The keeper said they are carnivorous too, but that they do not provide them with such meats...the monkeys are able to catch anything they like to eat, snakes and birds or mice...so they maintain their nature of hunting that way.
Their enclosure is very large and is much nicer than my memoreis of the Zoo as a kid. Menacing unfriendly cages are in the past..thank goodness.
Next along the trail we came to the Lion Exhibit. It is set out so spectacularly, I was impressed.
Look here..yes, someone drove the jeep right through the glass...good thing the radio still works. You can sit in it and you are entertained by music of the Botswana region!! I kept on thinking of that flick with John Wayne in it, HATARI.
There they are, the wire protecting them from Mia running up and hugging them or even worse, taking one home with her!!!
Here is the cute little Meerkat...Mia thinks they are named after her, LOL.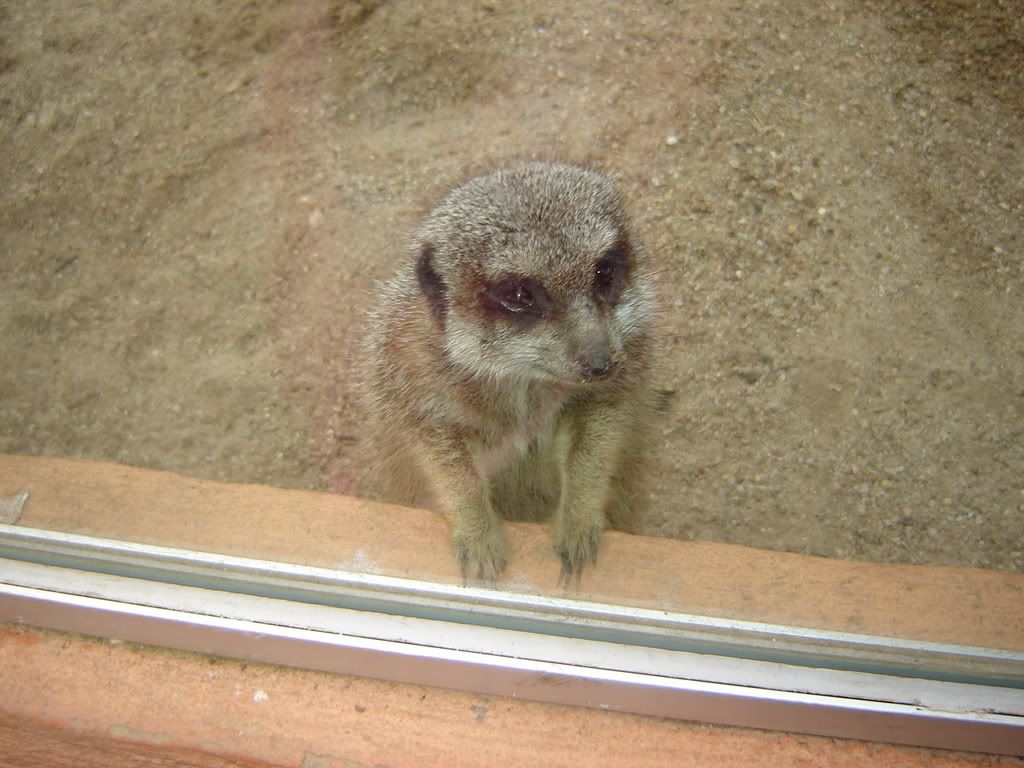 Walking along the track, you see imprints of animals, human footsteps and tire tracks. There are also sound of the animals played on speakers, well hidden in the scrub...all fun.
Viewing of Harry the Hippo is not only from the tour bus but from the waling trail too. You step onto the boat here and look out over the waterway and get a great view of him there. There are sounds of the Hippos being played on speaker there and a board explaining what each type of sound means.
A bit of fun to be had, walking along the bridges and stepping planks there, the kids loved it, yes, so did the adults!!!
Bye Bye Zoo, until next time...we may just partake in the overnight stay at the Zoo next Summer...if we are brave enought that is...
ADDITION: COURTESY OF AIDAN:

Aidan said...
Filtration works on cycling of water through a reed bed, so the phino poop, fertilises the reads, which grow remove the poop, oxegenate the water which is recycled back through, which then gathers more rhino poop.Cycles to clean the water, the water gets cleaner the reeds get fertilised and the rhinos stay healthy:)
7:42 AM